I'm going to tell you everything you need to know to understand Native English speakers…
Actually, that's an unrealistic expectation. I can't tell it all now, but I will tell you one very important thing to look out for:
BODY LANGUAGE.
Native English speakers speak fast, so… if you miss the words they're saying, look at their faces and hand gestures, try to pick up body language cues that suggest what someone could be saying or expressing.
In the professional world, body language is very important and reflects your professionalism. When I was 17, I was looking for my first job. I failed a lot of interviews, so I saw a recruitment agent to help me and figure out the problem. He came along to a few interviews with me that he had arranged. After 3-4 interviews he sat me down for some feedback. What he told me shocked me at the time…
He said my verbal communication is great, but my body language and facial expressions let me down massively. I was hardly moving my face or body and therefore, employers found it difficult to know how I feel about the job and what sort of energy I would bring to the workplace. And I didn't even have an accent, as a native English speaker people were struggling to understand what I was truly saying, simply because my words were not aligned with my body language.
Have a look at the images below, taken from a book by Paul Ekman called 'Emotions Revealed'. Try and guess the expression in each picture. Test yourself and check the answers below.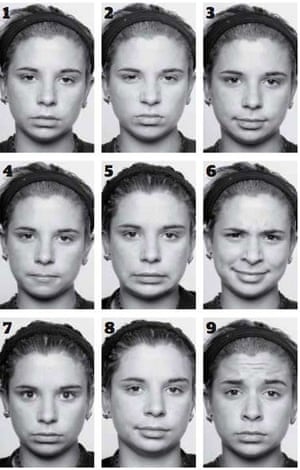 Slight sadness
Disgust
Slight enjoyment
Slight or highly controlled anger
Slight or highly controlled fear
Masked anger
Fear or surprise
Content, smug or disdainful
Worry or apprehension